Join us for some exciting upcoming events:
Thursday, March 29: Last film of the Ring Family Film Festival "Je t'aime terminal/I love you terminal," Goldsmith Family Cinema, 8pm
Je T'aime Terminal  ( I Love You Terminal) is a romantic comedy about a young Israeli man on his way to join his American fiancé. During twenty four hour connection delay, he meets an eccentric and charming girl with whom he contemplates love, relationships and life.Speaker: Dani Menkin, the film director.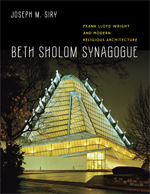 Thursday, April 5, Professor Joseph Siry will deliver a talk about the Beth Sholom Synagogue near Philadelphia, "Frank Lloyd Wright's Steel Cathedral Project and Beth Sholom Synagogue" PAC 004, 4:30 pm
In a suburb just north of Philadelphia stands Beth Sholom Synagogue, Frank Lloyd Wright's only synagogue and among his finest religious buildings. Designated a National Historic Landmark in 2007, Beth Sholom was one of Wright's last completed projects, and for years it has been considered one of his greatest masterpieces. The talk is based on Professor Siry's recently published book "The Beth Sholom Synagogue: Frank Lloyd Wright and Modern Religious Architecture."
Thursday, April 19, Professor Elisha Russ-Fishbane  will give a talk  "Judaism and Islam: Between History and Polemics" in PAC 004 at 4:30 pm
Please join us and bring friends and family!