On December 10, 2010 at a conference "Jews in Polish Society: Insiders, Outsiders"organized by the Institute for Polish-Jewish Studies and the Polish Cultural Institute and held at the Polish Embassy in London, UK, the 22nd volume of the series "Polin" dedicated to the study of Jews in Poland was launched.
The volume, entitled Social and Cultural Boundaries in Pre-Modern Poland, was co-edited by Professors Magda Teter (Wesleyan), Adam Teller (University of Haifa), and Antony Polonsky (Brandeis University).  The section on pre-modern Poland, edited by Teter and Teller, includes twelve essays by prominent scholars of Jewish history, among them Elisheva Carlebach and Moshe Rosman, and also an essay by Professor Teter "'There should be no love between us and them': Social Life and the Bounds of Jewish and Canon Law in Early Modern Poland."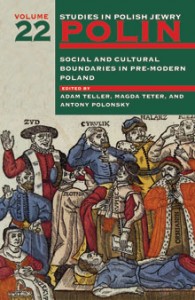 The book is now available for sale where books are sold.