Jewish and Israel Studies Certificate Program will sponsor a series of events in the Spring Semester, lectures, films, and readings.
The Israeli Film Festival will screen new Israeli films on five consecutive Thursdays between  January 28 and February 25. Among films shown will be: A Matter of Sizel; Touch Away (TV series); My Father, My Lord; Eli and Ben.  All films will be screened at 8pm, Goldsmith Family Cinema.
We are delighted to announce several upcoming lectures:
On February 2, Moshe Rosman will speak on "What's New in the Study of Hasidism"
Moshe Rosman is the author of a number of groundbreaking books, including Lords' Jews: Magnate-Jewish Relations in the Polish-Lithuanian Commonwealth during the 18th Century (Harvard, 1990); The Founder of Hasidism (California UP, 1996); and most recently How Jewish is Jewish History? (Littman, 2007).
On March 4, Elisheva Carlebach will speak on "Jewish Time/Christian Time: Calendar and Polemic in Early Modern Europe"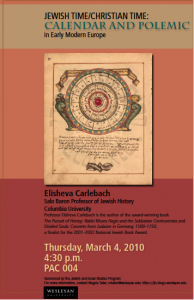 Elisheva Carlebach is the Salo Baron Professor of Jewish history at Columbia University.  She is the author of an award-winning book The Pursuit of Heresy :Rabbi Moses Hagiz and the Sabbatian Controversies (Columbia University Press, 1990; 1994) and Divided Souls: Converts from Judaism in Germany, 1500-1750 (Yale University Press, 2001) which was the finalist for the 2001-02 National Jewish Book Award; please check for time and place.
On April 12, Hilit Surowitz will speak on "Blood and Identity: Picart's La Circoncision des Juifs Portugais," time and place will be announced.
April 22, Frankel Memorial Lecture.
Other speakers will include Israeli writers and film-makers.  Please check back for details.